A crypto project needs to have the people's support to succeed and because many people don't know the history of NFTs, sometimes it can be a little difficult. That is why it's a must to design an NFT marketing plan to attract as many investors as possible. Proper advertising makes the difference between a failed project and a prosperous non-fungible token.
Any NFT creator should grasp the basics of a successful project before launching theirs. Understanding how and what makes a non-fungible so appealing is crucial.
Why You Need an NFT Marketing Plan
Despite how perfect the economics of a project may seem, without an NFT marketing plan behind it, it won't get anywhere.
Cryptocurrencies and NFTs are highly dependent on the value people give them. Trust and interest are vital for investors. Possible buyers need a reason to get their hands on a project. That's where marketing comes into play.
Marketing an NFT won't only make your reach expand, but it'll also play a significant role in how people perceive you. Do note that investors pay attention to both the prospects of your token and the demeanor of your brand.
What to Consider Before Developing Your NFT Marketing Plan
There are many concepts NFT creators need to consider. Most of them fall within the project's image and how to reach the target audience.
Define Your Target Audience
Identifying your audience is the staple of branding. Only after knowing who you're trying to approach can you devise an advertising campaign.
Investors are into NFT for several reasons. However, most buyers are interested in the goal of the project and its economical future. As such, non-fungible tokens need to have a charming proposal and a stable economy.
For instance, Axie Infinity's goal is to let its users have fun while trying to get the most valued Axies in the market. It is a simple premise that many RPG players can relate to. That is the logic behind the massive reach this metaverse achieved.
As for the economic future, this one is rather simple. No matter how much investors like a project, they will always strive to make a profit. People will take a look at the monetary benefits owning an NFT has before jumping in.
All in all, you need to appreciate what people will expect from your NFT according to the niche you choose.
Be Loyal to Your Community
All tokens rely on their investors. Building a loyal community and respecting their wishes is a top priority for any NFT developer.
The crypto world is all about trust and transparency. A community will support a currency as long as its developers don't betray expectations. A project must stay true to its purpose and investors to build a consistent fan base.
For instance, projects like Bitcoin and Solana always behaved as expected. In return, their communities still believed in them even in the roughest of moments. Consequently, these projects stayed at the top consistently.
Build Hype
Many designers fail to understand that pre-launch advertising is of utmost importance.
The moment you decide what your non-fungible token will be, you should immediately start promoting your project. You have many options at your disposal to do so: social media, NFT SEO marketing, brand partnerships, and teasers, among others.
You can't go wrong as long as you show the world why your NFT will change the crypto market. Nevertheless, remember to stay true to what you declare!
Tips to Design an NFT Marketing Plan
All projects must consider a set of ideas to establish themselves in the market. These basic rules are the pillars of effective NFT marketing.
NFT Listings
The very first step to take is to list your project on a popular marketplace. Indexing your NFT is undoubtedly the most effective tip.
You can list your NFT in a marketplace such as OpenSea and Rarible. Even so, not all of these spaces deal with any project. For example, the Axie Marketplace handles assets of its platform, nothing more.
The reach NFT listings give to small projects is unquestionable. With it, thousands of people will be able to see your non-fungible token as a legitimate project. In addition to that, potential investors can buy the assets displayed in an instant.
State Your Goal
Clarity and transparency are essential in the crypto industry.
Regardless of your project, the goal you're trying to achieve should be clear. By sharing your vision, investors will grasp your objective and relate to it. A good example would be Cardano, which is set on being the most environmentally sustainable decentralized blockchain.
Aims like this are easy to understand and are relevant to their target audience. As a reward, the projects' communities thrive under a collective resolve. A united fan base can go a long way, even if your project is undergoing issues.
No NFT marketing plan can flourish without a clear goal in mind.
Social Marketing
In today's world, social media is everything. Every company takes social marketing seriously, and for a good reason.
People worldwide spend many hours navigating their way through any social platform. Consequently, this makes social media a gold mine for any advertising campaign. Its outreach is unprecedented in our history.
Nonetheless, it's not advisable to use any platform without a proper reason or plan. For example, Twitter is the perfect example to reach people that don't know much about your NFT. As such, news and user-friendly posts are more appropriate.
An exact polar is Instagram, which is community-centered and more focused on sharing your brand's identity. In this platform, developers expose themselves in order to get closer to their audience. This strategy allows users to relate to projects and form a bond with the team.
Social platforms are indeed a suitable spot for advertising a project, but they require some brainpower to get the best out of it.
Influencers
Influencers go hand in hand with social marketing. They amass massive traffic thanks to their popularity.
Influencers are basically everywhere: from Facebook to Twitch. There's no single social platform where they're absent. In fact, most use several platforms to reach as many as possible. That is why social media is such a valuable asset in any NFT marketing plan.
What's more, many advantages come with influencers. Their audience will have faith in their words. Hence, your NFT will have the seal of trust needed to succeed in social media. Moreover, the influencer's community will merge with your community.
Although this strategy is worthwhile, there are particular concerns connected to it. If an influencer is undergoing a trust issue, its followers will associate their bad reputation with the project they promote. A rather unlikely scenario, yet still plausible.
SEO Marketing
Search Engine Optimization (SEO) consists of a set of strategies that generate as much organic traffic as possible.
There are many ways to promote your project using NFT SEO: you can research the most popular keywords related to the crypto world, create a blog, or request links, among other techniques. The idea is to advertise your non-fungible token organically.
Without it, earning visibility for your project and its webpage becomes exceptionally challenging. As a result, companies usually outsource NFT SEO in order to preserve their resources better.
Community Building
Although reaching outsiders is a decisive component of your NFT marketing plan, so is building a loyal community.
A project should compel its fan base to support it. Events, giveaways, and exclusive perks for long-time investors provide excellent reasons for people to back up their favorite NFT. They also need a space in which they can interact with each other.
NFT project teams generally go with Discord and Telegram to build their communities. These platforms let the developers approach their fans more casually. Additionally, NFT enthusiasts can have fun while bonding over their preferred non-fungible token.
Brand Partnerships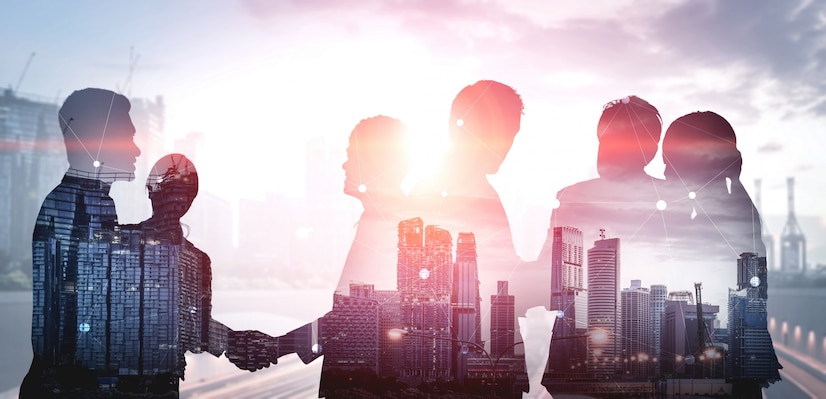 Collaborating with other projects is another method of achieving organic traffic.
NFTs are highly valued due to how unique they can be. Following that logic, a one-of-a-kind event such as a partnership is bound to attract tons of potential customers.
Furthermore, the communities of both brands will increase substantially. Partnerships display good faith from the bigger company, while the smaller one gets recognition for its potential in the industry.
On top of these benefits, it's been statistically proven that partnerships raise NFTs' values and reach through the roof. It's a win-win scenario.
Conclusion
A project can only achieve success with a well-crafted NFT marketing plan behind it.
Identifying what people expect from an NFT, assuring one's community, and utilizing suitable marketing strategies are critical. Projects that heed these fundamentals are sure to accomplish great lengths.